sambatuc
The objective of Sambatuc is to promote Brazilian culture and music (particularly samba and batucada) with musical and scenic shows as well as the organisation of cultural events.
history
The Sambatuc group has been playing together for about 15 years. At the beginning, a dozen musicians, passionate about Brazilian culture, grouped together to play, then the group progressively grew and experienced its first street carnivals and block parties.
In 1997, Sambatuc formed an association to give themselves the ability to promote Carioca culture and Samba in France, and also to develop close links with Brazilian artists. In 2000, Sambatuc organised the first member's trip to Rio for the Carnival. Since them, each year, a few members of the group go over to rehearse and parade with the Samba schools in Rio.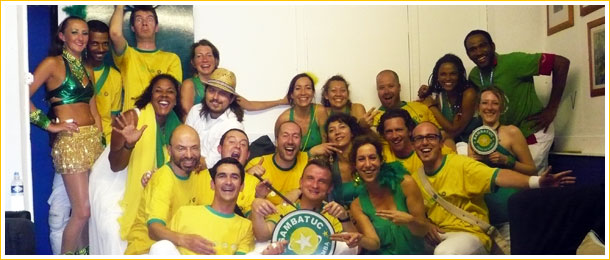 In 2001, the first Casa Do Sambatuc took place: a party organised by the association and dedicated to Carioca music, during which artists, dancers and singers of the Brazilian world in France participated for more than 10 editions.
Now comprising more than 30 musicians, Sambatuc has become a must-have partner at Brazilian parties everywhere in France and regularly gives concerts during European cultural events. Sambatuc's repertoire covers bateria show, samba enredo (mixing drums, singing and cavaquinho - a little traditional guitar from Brazil), and samba funk. The group can adapt to private parties as well as bigger events.
Closely to Rio's sound
Constant exchanges with the Brazilian artistic community guarantee the quality and ongoing development of Sambatuc's repertoire. In addition to trips to Rio, Sambatuc regularly invites musicians from the "Grupo Especial" samba schools (top school division in Rio) for musical workshops. For example, mestre Jonas (bateria director from the school of Mocidade) or Serrinha Raiz (one of the musical directors from the school of Tijuca, winner of the Rio Carnival in 2010) came to Paris to share with the group the secrets of the so special groove of samba. More recently, for the opening party of the Carnival 2011 at the Cabaret Sauvage in Paris, Sambatuc invited Ciganery, the puxador of Mangueira, for an exceptional concert.
Sambatuc also works with Brazilian artists living in France. It frequently performs with the dancers of the Allez-Samba school, directed by the choregraph Alessandra Cabral. Since 2009, the enredo (songs from Rio's carnival) collection of the group has been interpreted by the singer Cristina Violle, with whom Sambatuc won the batucada contest of the Cabaret Sauvage in 2010.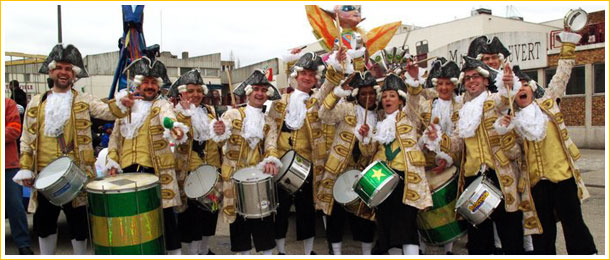 quem é quem ?
Board members
Président : Rachel Leplat
Treasurer : Fredéric Le Du
Secretary : Nelly Chanon
the bateria
Mestre de bateria : Thiago Bohme Leite
Director of chocalhos : Nelly Chanon
Director of surdos : Sébastien Larminay
Director of caixas : Tristan Mary-Huard, Anthony DAS NEVES